Work for Western Colorado's Premier Landscape Service Provider
Mesa Turf Masters has been a locally-owned and operated landscaping company in the Grand Junction, Colorado area for over 30 years. We handle a variety of landscaping tasks, including full-service lawn care, weed control, irrigation installation and repair, tree and shrub care, as well as landscape installations for homeowners who desire a beautiful, functional outdoor area that exceeds their own expectations. Our team consists of landscaping professionals who have a passion for healthy lawns and landscapes.
Part of what makes us landscaping professionals is our commitment to quality relationships with our clients. We stress the importance of honesty, transparency, and overall integrity in all of our services. We hire employees who have great communication skills because we want our customers to feel comfortable with us as we transform and maintain their landscapes. Keep reading to find out more and if it sounds like a good fit for you, we invite you to apply for one of our available landscaping jobs.
Our Team is Supportive, Hardworking, and Happy to Be Working Together
If you join our team of landscaping professionals, you can expect a supportive atmosphere that respects you as an individual and strives to help you grow in your skills. We work together in a fun, respectful, and energetic way. The following core values are expected in the way our team interacts with each other and with clients: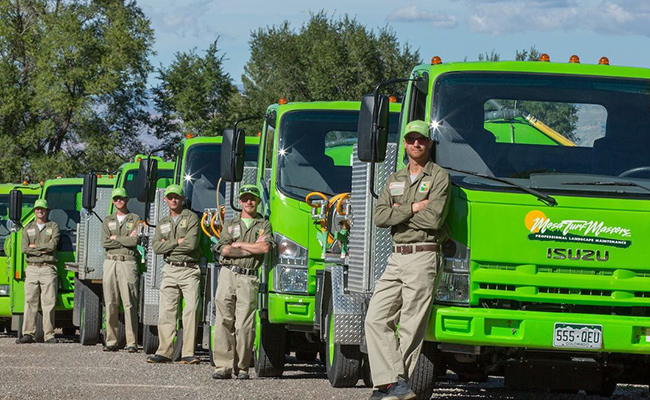 Dependability and accountability.
Personal accountability is essential for the success of our team. Each employee must be dependable, so we can continue providing a high standard of landscaping to our clients.
Positive attitudes.
Our culture demands individuals with positive and outgoing personalities. Be willing to build good relationships with valued clients and coworkers.
Honesty and integrity.
Always strive to do the right thing, treating others like you would like to be treated. We try to be truthful in all our interactions, and we accept responsibility for our actions.
Improvement.
A desire to get better in both personal and professional lives will lead us to innovations and an ability to serve our customers better. We live in a continuously changing environment with the need to adapt and improvise to meet the demands of the marketplace. Getting better is personally rewarding and leads to a sense of accomplishment that is measurable and inspires others to follow.
Growth.
Growth is planned for and executed by design and is the most significant driving force at Mesa Turf Masters. Growth creates opportunity for staff advancement in pay, responsibility, and the success of the company.
Mesa Turf Masters believes in the family unit and looks at its team members as family. We take care of each other in good and bad times, whether they be in our personal lives or the work challenges that occur. We believe in helping those who need help, comforting those who need comfort, and praising those who earn it.
Current Landscaping Jobs Available at Mesa Turf Masters
If you believe your core values match our company values, and you think you would fit in well with our hardworking team, please take a closer look at our open positions.
Landscape Construction Foremen
Lawn Care Technician
Landscape Crew Member
Irrigation Technician
Office Assistant
Lawn Care/Landscape Sales
Benefits We Offer Our Valued Employees
Hard work and productivity is rewarded at Mesa Turf Masters! If you are hired, you will enjoy the following benefits:
Competitive market wages starting at $17.00 to $22.00 an hour
Ability to work independently within a supportive team environment
Company, industry, and ongoing training
Company-provided uniforms, PPE, and equipment
Ability to earn commissions and advancement
Paid holidays
Weekends off
Simple IRA with company match
Each day is different and presents its own unique set of challenges. Overcoming these challenges gives you the satisfaction of a job well done and fair compensation for it.
These benefits and opportunities are available to everyone; however, they will be earned because:
Our employees work hard physically, and it gets hot outside.
Much of the job can be described as a marathon more than a sprint, but if you have not been exposed to hot and strenuous conditions and feel that you are not capable of doing so, please do not apply.
Our schedule is demanding.
Lawn care and landscaping is a seasonal job. Our primary work season is typically from mid-February to mid to late November, weather permitting. Our employees are supported with job attached unemployment through the off-season, while some earn winter hours. This time frame limits our ability to accommodate extensive vacation time as each of our team members serves a pivotal role throughout the season.
Our customers are demanding, and so are we!
Landscapes are an investment that require a lot of effort from everyone involved. We ask that our members set themselves apart from the average by providing a higher level of dedicated service and being prepared to have some difficult conversations.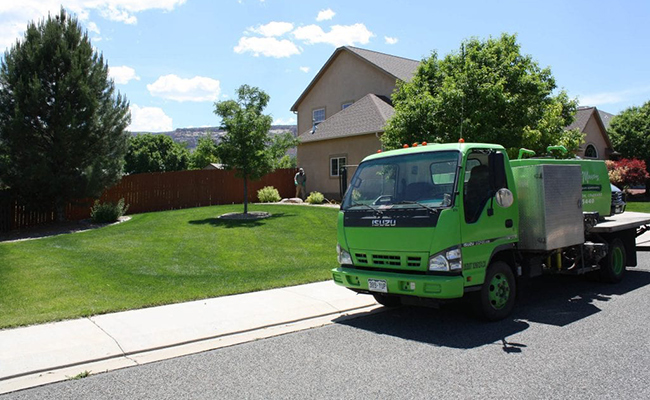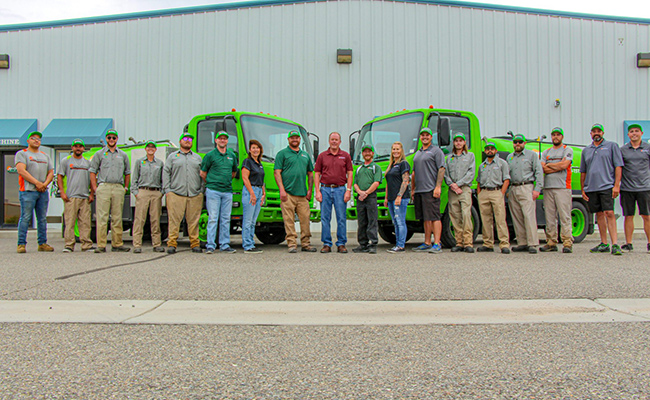 Exceptional Landscaping Services in Grand Junction, Colorado and Beyond
As a locally owned and operated company in Grand Junction, Colorado, Mesa Turf Masters offers quality landscaping services to customers in Grand Junction and across the Western Slope. Our extensive service area includes:
Don't see your area? Visit our Service Area Page or reach out to our friendly staff to see if we offer service in your area.
Meet John, the President and Founder of Our Company
John is enthusiastic to offer such great lawn care and landscaping services to many clients in Grand Junction and other parts of Western Colorado. He founded Mesa Turf Masters over 30 years ago, and has grown the company from having a single employee to owning an entire fleet of bright green landscaping trucks. John works alongside his employees every day. He believes in the same core values that he expects his employees to have. It's good to know that the president of the company is on your side, working with you to help you improve and grow.